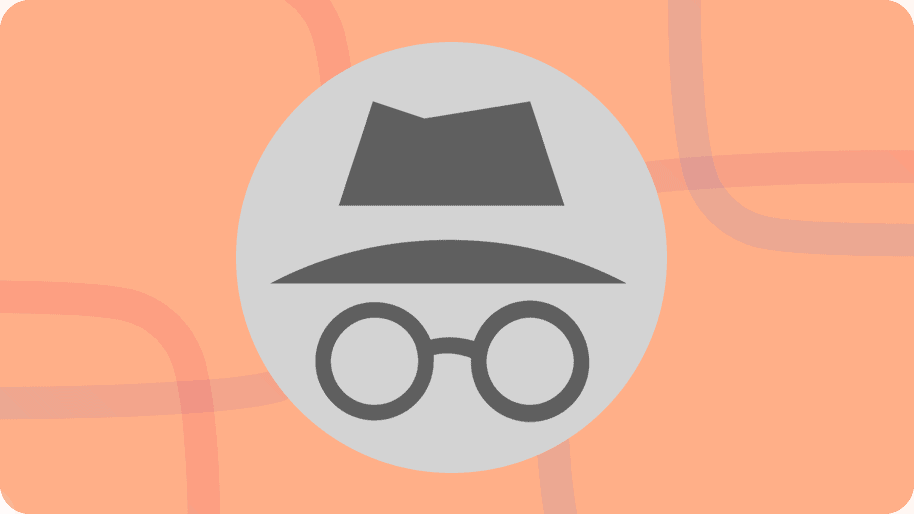 YouTube is rated the most popular video streaming service with a record-breaking 2 billion monthly users, each with their own video preferences on the platform. Some people just like smiling to the viral cat, dog and baby videos, others actually get tutored through the many educational contents available, while others are there for the videogame walkthroughs by pro gamers. There are thousands of different reasons why people use the site as there are thousands of different genres of video content.
However, regardless of whether whatever you're watching is legal or not in your designated region, everything you do on this platform is carefully monitored by the company. Just as in its privacy policy, YouTube has a right to everything concerning your personal preferences, and that's why Incognito Mode for YouTube was developed to help shield users from such stalking behavior. You have an option to privatize your browsing content on YouTube using the Incognito mode, and I'll show you exactly how with this guide.
Why do we need to use Incognito Mode while Watching YouTube videos?
Google owns YouTube, and through it, they collect endless amounts of data about you and enhances their ad platform on the site. While browsing and viewing your favorite content on YouTube, a data trail is left on the internet that enables for personalized ads. Deploying the use of incognito mode can greatly help in masking your identity while going through your favorite videos, thus maintaining your privacy and eliminating any possible trails of your searches and activity
Your search history and all the relevant browsing data that comes with it is a highly sought commodity in the internet world because it is by no silly coincidence that after searching for an item a pop-up ad for the same product follows. Incognito mode comes in handy to mitigate this data loss and maintain your privacy online.
Deletion of cookies is also is a great way to ensure that your browsing data is kept private. In incognito mode, no session history is stored, and this eliminates targeted ads keeping your preferences out of the pictures.
How to enable incognito/private mode on the YouTube app?
It is to be noted that this feature is only available to android users on the YouTube app. This is a work-in-progress feature that is being developed and improved. It ensures that there are no traces of your browsing history are retained. Toggling the feature involves a few simple steps to ensure your browsing history remains a mystery.
Open PlayStore and Install YouTube App or YouTube Vanced App.
Opening your YouTube app and tap on the account icon. Your account information details will be displayed along with other options and including time watched and your channel.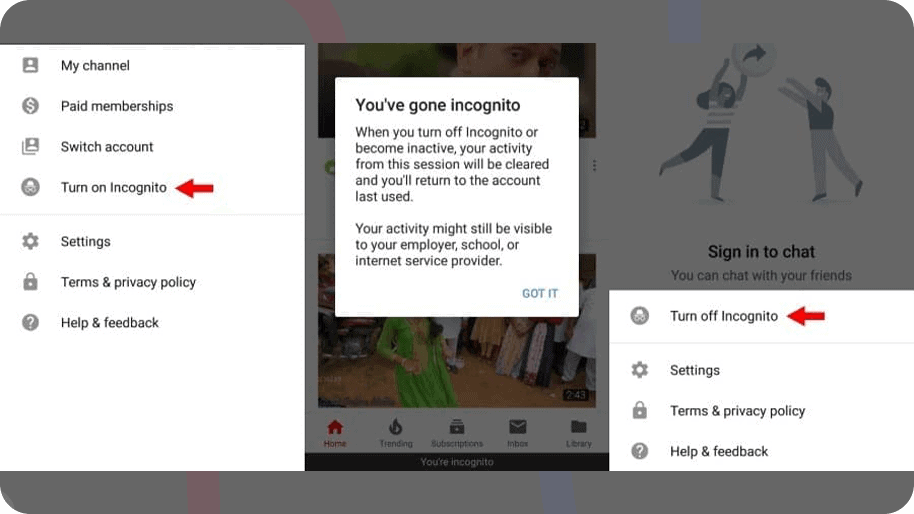 Tap on the Turn on Incognito to switch to incognito mode. And voila! You have successfully completed the operation.
First-time users will see a pop-up message after tapping on the button that notifies you that you have successfully switched into incognito mode. Tap on the got it button, and you are good to go. After 90 minutes of inactivity, the incognito session ends, and you are returned to the default account used.
Final words
Every activity and browsing that you carry out while in the incognito mode is private. If you attempt to subscribe, comment or even like a video, you will be asked to exit incognito mode in order to accomplish the desired action
Recommended Read: 5 The Best YouTube Alternatives for Android